Statesville

High School




Class Of 1969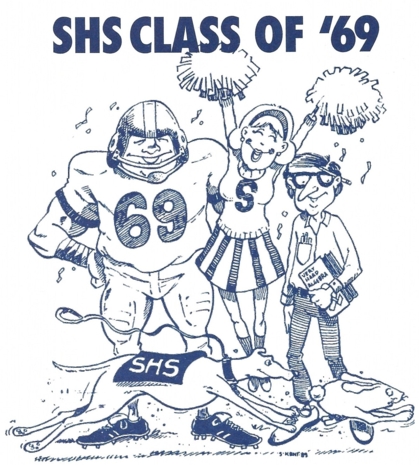 ANNOUNCEMENTS
•


Mr. Bernard Lewis Davidson, 70, of Statesville, North Carolina departed this life on Tuesday, December 15, 2020 at Iredell Memorial Hospital. He was the son of the late Claude and Nannetta Lonon Davidson.

Bernard was a 1969 graduate of Statesville High School. During his years of high school, he was a member of the drama club, basketball team, and the Statesville High School Grenadier Marching Band. North Carolina chose the Grenadier marching band to be in the 1969 Presidential Inauguration Parade in which Bernard participated. Bernard retired from Wm. T. Burnett & Co. after 28 years of service. He was a lifetime member of Scotts Chapel UMC where he served as Chairperson of the Trustees, President of United Methodist Men, Sunday School Superintendent, and a member of the choir. He was instrumental in leading the renovation of Scotts Chapel United Methodist Church. He was loved dearly by his church family and community. Bernard's favorite hobby was cruising in his 1966 Chevy Truck which he named "Ol' Blue".

In addition to his parents he was preceded in death by his paternal grandparents Claude and Sally Davidson; maternal grandparents Willie and Nannetta Lonon.

Bernard is survived by his loving wife, Barbara of 35 years; five children, Vincent Davidson (Amy), Coleman Davidson (Jamie), Robin Witherspoon, Derrick Parrott and Tina Tolbert. Bernard and Barbara have fourteen grandchildren; Vincent Andrew, Matthew, Ashley, Akasia, Haley, Rasheed, J'Kyla, Elizabeth, Jada, Saniah, Cameron, Raven, Damien, Tierra and eight great-grandchildren; Caleb, Calaya, Jaidence, Ryan, Cassie, Ryland, AJ, and Angel.

Four brothers: Willie Davidson (Selina); Michael Davidson (Tuwana); Glenwood Davidson (Zoine) all of Statesville, North Carolina and James Davidson (Thwanda) of Seneca, South Carolina. Two sisters: Claudia Tatum (Jerry), Greenville, South Carolina and Gloria Wilson of Troutman, North Carolina; an aunt Mary Davidson; a God Sister Joyce McCall; special friends Cecil Horne and Vermel Moore; and a host of nieces, nephews, cousins, church family, other relatives and friends.

Graveside Celebration Services will be conducted on Wednesday, December 23, 2020, at 1:00 p.m., at Belmont Cemetery, Statesville. Elder Christopher Daniels will officiate and Minister William Brawley will be the Eulogist.

There will be NO PUBLIC VISITATION (WAKE), unfortunately, with the COVID-19 Virus. We, at Rutledge and Bigham Funeral Home, along with other funeral homes across the country, have been issued a mandate to limit the number of family and/or friends at funeral services. YOU CAN ONLY ENTER THE FUNERAL WITH A FUNERAL PASS WHICH WILL BE GIVEN TO THE FAMILY.

GENERAL PUBLIC VIEWING WILL BE HELD ON Tuesday, December 22, 2020, beginning from 2:00 p.m. until 6:30 p.m. and resume Wednesday Morning, December 23, 2020 from 9:00 A.M. 12 Noon. You can also view Mr. Davidson's remains virtually on-line at: www.youtube.com, search Bernard Davidson Viewing.

Visit the Book of Memories for Bernard Davidson at www.rutledgeandbigham.com. Rutledge and Bigham Funeral Home is serving the Davidson Family.


•


Susan Barwick Curlee, 69, of Chapel Hill, died December 15, 2020, surrounded by members of her family. Susan was born August 11, 1951 in Tampa, Florida. She was the daughter of Henry Clayton Curlee, Jr. and Jacqueline Norton Curlee. Susan grew up in Statesville, North Carolina. She graduated in 1969 from Statesville Senior High School, and in 1973 from The University of North Carolina at Chapel Hill. Susan remained a loyal and enthusiastic Tar Heel fan her whole life.
After graduation, Susan was, for over twenty years, a kindergarten and elementary school teacher in Durham. She was a member of the Junior League of Durham and University Methodist Church in Chapel Hill. Susan was instrumental in starting the Stephen Ministry program in her church in 1989, and was one of the first Stephen Ministers. Later, Susan became involved in her church's Christ Care Group. Susan's family wishes to thank Senior Minister Justin Coleman, Rita Bigham of the Christ Care Group, and Terry Hamlet of the Stephen Ministry Group for their loving messages of thanks and praise to Susan for the work she had done in her church. They all commented on Susan's bright, loving and caring spirit. Thanks to all!
Susan was preceded in death by her parents. She is survived by two brothers and two sisters, Henry C. Curlee III and his wife Nancy, Louis Norton Curlee and his wife Melanie, Nancy Curlee Demorest and her husband Stephen, and Patricia Curlee Preyer-Porter and her husband Robert. Susan is also survived by eleven nieces and nephews who adored her, and two great nieces. Susan's family wishes to thank all of her friends who have prayed for her and reached out to us over the past weeks when Susan was so ill.
Susan will always be remembered by her family and friends for her wonderful wit, great sense of humor, creative illustrated birthday and Christmas cards, and her love and knowledge of music. Her kindness, generous and caring spirit and loving heart will be missed by everyone who knew Susan. She was our sunshine!
Because of COVID restrictions, a private family graveside service is planned for Oakwood Cemetery in Statesville in January with Reverend Mitzi Johnson officiating. A celebration of Susan's life will be held at University Methodist Church, at a later date.
The family asks that, in lieu of flowers, memorial gifts be made to University Methodist Church, Stephen Ministry and Christ Care Groups, 150 East Franklin Street, Chapel Hill, North Carolina 27514.